Proform's manufacturing plants have decades of experience and specialize in resdiential precast. We have taken on the challenge of a heated steps and have worked out the complexity of curves and wheel chair ramps. Our products offer a superior finish due to the controlled production environment and allows for year round manufacturing and installation.
Our product lines include:
Steps, Decks and Verandas
Make Proform your 'first step' to a beautiful home!  Our precast concrete steps and decks are produced in four distinguished products lines: Standard, Presidential, Exposed and Stonehenge finish. These products are fully customizable (width, depth, rise) with a variety of color and aggregate options. Our wide range of step and deck molds can produce a minimum of 35 custom steps and decks per 8 hour shift and combined with highly experienced Sales, customer Service and installation specialists, you will be satisfied with the products, professionalism and customer service.
Standard Steps
Our standard steps are a great option for new or existing homes. A distinctive bull nosing around the landing and riser perimeter with a form finish on all vertical surfaces compliments the traditional broom finish on all horizontal surfaces. Standard steps come in one-foot increments starting at 4' up to 8' with a standardized landing depth of 48". As well we carry single and double side entry steps with custom widths to allow for property lines.
Presidential Steps and Decks
Our popular Presidential series is cast with a bull nosing around the landing and riser perimeter, broom finish on all horizontal surfaces and a form finish on all vertical surfaces. Additionally, the riser face is etched giving these steps distinctive architectural lines. These precast custom steps range in size up to a maximum landing width and depth of 16' x 8' with up to 6 risers. They are adjustable and can be produced for angled entries.
Presidential Recess Decks
Recess precast decks are cast with the same bull nosing, broom finish surface and form finish vertical surface as our regular decks however, and they come with a recessed skirting allowing installation of cultured stone or brick. Because of the recess skirting, the landing creates a natural weather break helping eliminate stone "popping" due to water penetration. These custom recess decks can range in size up to a maximum landing width and depth of 16' x 8' with up to 6 risers with a recess option from 2 ½" to 5 ½".
Exposed Steps Decks
Complementary to the bull nosing, the entire surface of this product is exposed to create an air of elegance to any home. These custom precast steps and decks can range in size to a maximum landing width and depth of 16' x 8' with up to 6 risers. This finish option is available with our Steps, Decks and Recess Decks. Pigments are available upon request.
Stonehenge Steps and Decks
Make a statement to the entrance to your home with our Stonehenge product line. The stamped surface emulates the natural beauty of a quarry stone. The broken stone appearance on the perimeter combined with the full etching gives this product natural depth and architectural lines found only in natural stone. These custom precast steps and decks can range in size to a maximum landing width and depth of 16' x 8' with up to 6 risers. This finish option is available with our Steps, Decks and Recess Decks. Various color options are available upon request.
Precast Concrete Step Advantages:
Quick install time - on site for as little as 2 hrs 
More cost effective compared to a pour in place
Variety of quality finishes available
Standard sizes in-stock
Adjustable forms to allow for a precise install
Precast concrete stairs are hollow making them less likely to settle like solid concrete stairs
Engineered so you can be confident in your Proform precast step
CLICK HERE for more details on our steps, decks and verandas.
---
Step Replacement
Do you have old, cracked or peeling precast concrete steps? If so, Proform's experienced personnel can come to your home to conduct a no-charge site assessment and consultation.  We will even remove and dispose of the old ones before replacing them with a brand new, durable precast concrete step.
---
Brackets
Our metal brackets come in multiple sizes to suit all precast step and deck installation situations. Due to their lightweight fabrication, our brackets are multifunctional and perfectly suited for applications on the front, side or rear of a home. Bracket sizes range from 2' to 14' and are carried in stock.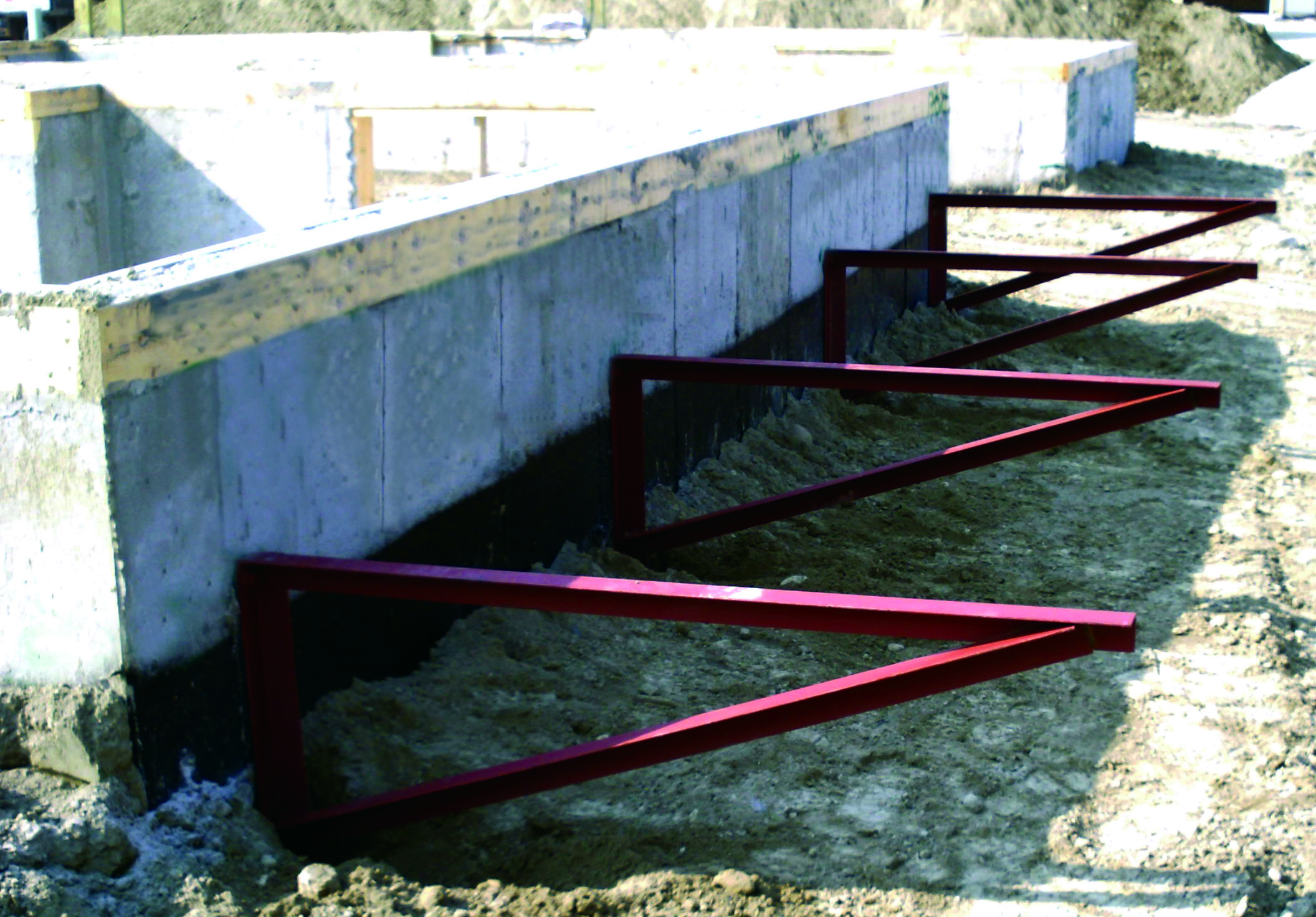 ---
Stairwells
Our precast concrete stairwells are a versatile and cost effective option for secondary suites and are well suited for both rear and side walk ups. The stairwell width is adjustable from 48" to 36" eliminating most property line issues and available up to 6 risers. A 4" drainage hole is cast into the floor to allow for a plumbing hook up. The sides of this stairwell are smooth finish and the risers are cast with broom finish and our distinctive bull nosing.
---
Precast Foundations & Basements
Our precast foundation walls simplify basement construction for efficient and quick development of warmer and higher quality basements. The walls comprise high-strength concrete panels manufactured in a quality controlled manufacturing facility off site. Each panel contains steel studs for load-bearing support and a built-in concrete footing. Panels can include rigid insulation for added energy efficiency. Walls can be customized by project to allow for door and window openings, beam pockets and varying height to accommodate various designs (ie. walk-out basements). We offer other convenience features such as wood or steel nailers for easy drywall installation. Panels range in size from 2 to 24 feet wide by 8 to 10 feet high to accommodate a variety of basement configurations. Proform offers full turn-key services including engineering/design, manufacturing, delivery and installation including all caulking and sealing requirements.
---
Window Wells
Precast concrete window wells are a great option on any home, for both new construction or renovations. These window wells come in a smooth or exposed finish and range in size from 4' to 9' in width. The standard window well height is 3' with 6" and 12" extension available allowing flexibility for use on larger basement windows. Our window wells are an elegant option that allow for superior light filtering into the basement and comply with local egress codes.
---